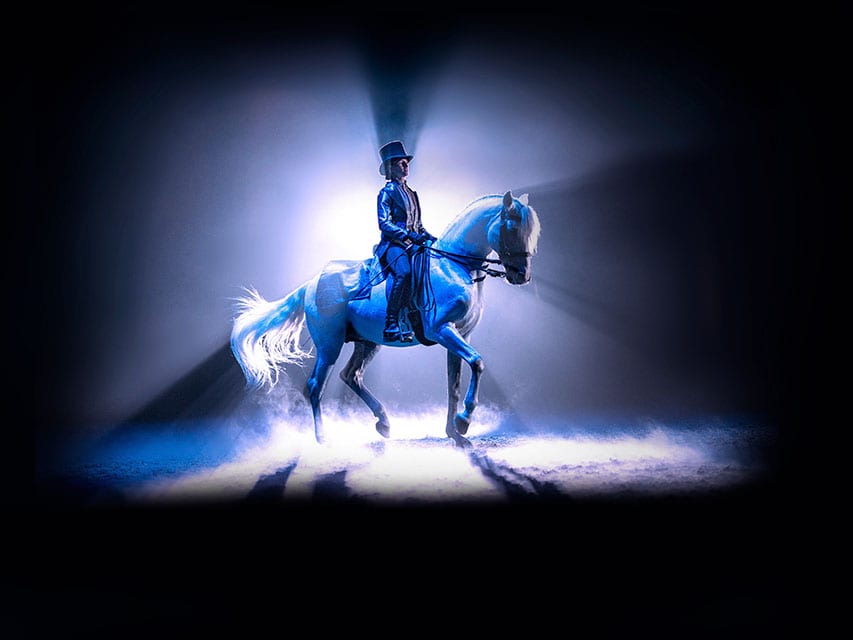 Cavalluna is a high-profile equestrian show
designed with lots of love for the horses. The high standard of production and
an eye for detail combined with smart technology has made the show spectacular
and successful. In total, 5 tours have been staged since 2017, always playing
the biggest arenas in Europe.
The tours have so far played around 600 Shows across Europe.
Up to 20 horses and artists are tracked simultaneously, with a total of 53
trackers in use.
This makes it the largest tracking application of Zactrack worldwide.
Conventional follow spots would not be able to properly illuminate this show,
so the production early on opted for a tracking system.
Tracking also makes sure that at every evening the show lighting performs
flawlessly, something that is extremely important for the horses.
Martin Kuhn was responsible
for the design of this years "Secret of Eternity" tour, whilst
Florian Behmenburg and Chris Heberle were responsible for some advanced
Zactrack programming and for implementing some new features that had not been
possible before. This led to a markable improvement in the speed and accuracy
of the tracking compared to previous tours. Florian Behmenburg was responsible
for the design of the substantial zactrack System as well as the system
implementation and training at the start of the tour.
During the tour, tour-personnel supervises the setup
VIDEO zactrack promo video
All photos © CAVALLUNA and © Martin Kuhn